Network Events
ChickenStress at ESPW 2023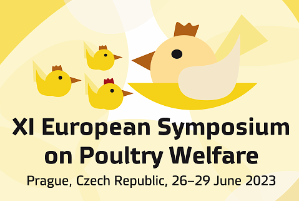 Our ESRs are eagerly preparing for their journey to Prague, where they will proudly participate in the XI European Symposium on Poultry Welfare (ESPW) from June 27th to June 29th, 2023.
Throughout the three-day event, our talented ChickenStress ESRs will present their project posters, scheduled for engaging sessions on July 27th and 28th.
Additionally, we are thrilled to announce that six of our ESRs will grace the stage, delivering captivating talks that delve deep into their research. Here are details of their presentations:
27th June
15:15 Lucille Dumontier, 'Environmental complexity during rearing and laying: effects on stress responsivity and fearfulness in laying hens'
28th June
11:45 Kathy Broekmeulen, 'Effects of hatching system factors on laying hen chicks in a step detour test
14:15 Maëva Manet, 'Brown and white layer pullet hybrids show different fear responses towards humans, but what role does light during incubation play in that?'
29th June
9:45 Alex Johny, 'Use of artificial light cues improve early life ramp use behaviour of laying hens in rearing aviaries
11:20 Endre Putyora, 'Laying hens display resilience to sleep disruption'
11:35 Klara Grethen, 'Fat and furious: Dominant hens gain more weight over time in aviaries'
With their expertise and passion, our ESRs will undoubtedly contribute to the vibrant discussions surrounding poultry welfare at this symposium.
Last modified: Thu, 18 May 2023 12:43:02 BST
Top