Network Events
Inaugural Training School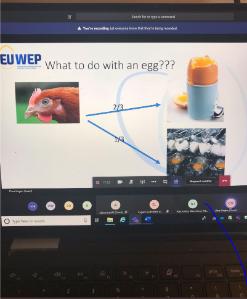 We were due to hold our Inaugural Training school for the ChickenStress Network in Lleida, Spain. However due to travel restrictions we held this meeting virtually in Microsfoft Teams.
The objective of the training school was to introduce our 14 early stage researchers to the current state of knowledge of stress regulation in birds and mammals, as well as current practice in the egg industry plus essential training in open science and social media. The program was delivered by PIs in the network and external expert members of the ChickenStress Strategic Advisory Committee.

We had a maximum of 26 attendees to coordinate at each session. The scientific program consisted of a combination of webinars, live lectures and interactive sessions - all delivered and received extremely well. See links below to a few of the sessions delivered during the training school.

Thank you to everyone who pulled together to make it a huge success!
OVERVIEW OF THE NETWORK - Dr Tom Smulders
Selection for Stress Resilience Webinar - Hendrix Genetics
SOCIAL MEDIA - Dr Vicky Sandilands
Last modified: Wed, 03 Feb 2021 13:37:04 GMT
Top